For the past few years, AQWIRE has been establishing partnerships with the most trusted property developers to provide an easy and hassle-free property acquisition process and payment solutions for Filipinos living locally and abroad.
Among its valued partners is Vista Residences owned by one of the country's largest homebuilders, Vista Land & Lifescapes, Inc. Being the latter's condominium development arm, Vista Residences has partnered with AQWIRE to bring a seamless condo acquisition and payments process for those who are planning to own a unit in the Philippines; and those who already own a property, and are looking for a convenient way to pay for their real estate reservations, amortizations, monthly condo dues and others.
With its wide offering of condo properties in the metro, mostly catering to students and professionals alike, Vista Residences, in partnership with AQWIRE, offers an easy way of paying for property dues online. With its target market that gives much value to their time, owners can now pay using any of their locally issued Visa and Mastercard credit or debit card, while OFWs who also own properties under Vista Residences can settle their dues through their internationally-issued cards.
For Vista Residences unit owners, they can pay for their property dues in the comfort of their homes, without having to go to remittance centers or banks. All they have to do is follow these simple steps:
Step 1: Go to https://www.vistaresidences.com.ph/ and click "Pay online"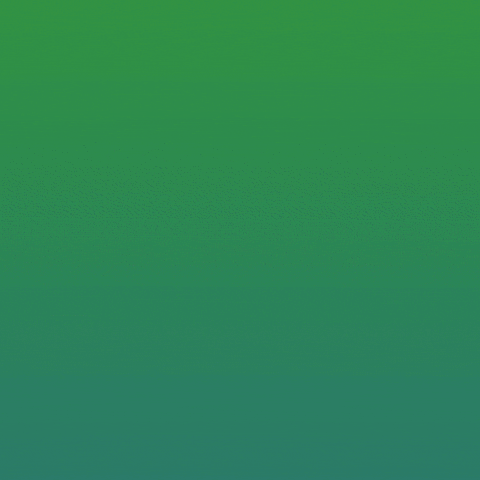 Step 2: Choose whether you're paying with an International Card or PH-Issued Card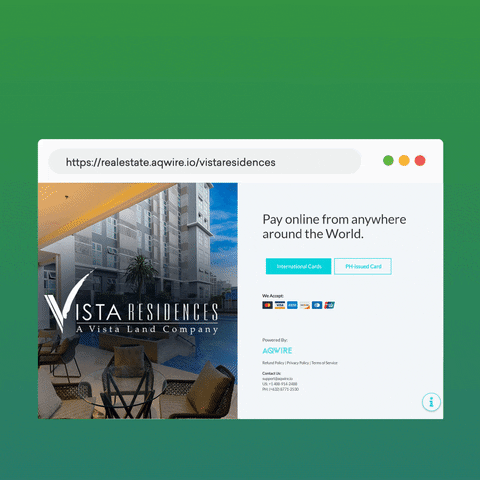 Step 3: Fill out the form with your property details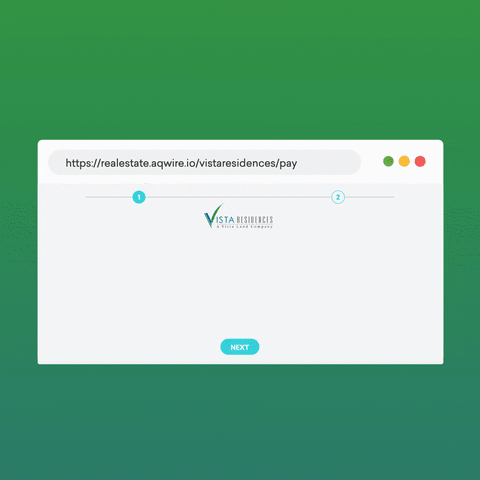 Step 4: Type in your payment details and click on "PAY NOW"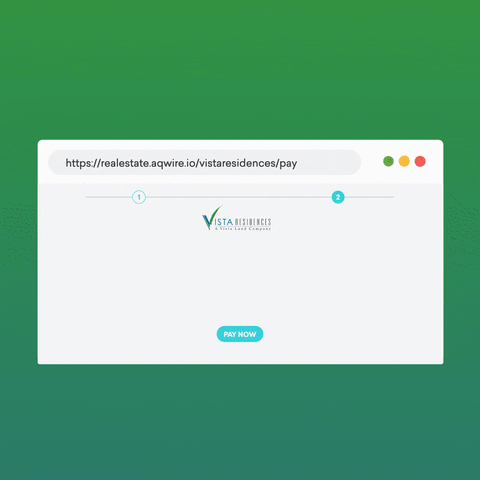 About Vista Residences
Offering top-tier properties across the country's premier universities and developed business districts, Vista Residences gives most value to three things: Covenience, Comfortability, and Security.
With over 17 properties located in Manila and Quezon City, Vista Residences believes that living in the urban vicinity has its own advantages, including accessibility to almost everything owners would need while living in their condo unit. Another notable highlight of Vista Residences properties is its top-notch features and amenities that equally provides comfortability, making owners' condo living experience much like that at the home they grew up loving. Complete with 24/7 security, services, and CCTV monitoring, owners would not have to worry about their security while inside their Vista Residences property.
For more information about Vista Residences properties and services, visit their website at https://www.vistaresidences.com.ph/.
Looking for a condo unit in Quezon City? Check out their available properties here: https://www.vistaresidences.com.ph/properties/quezon-city